Meet Dani
Dani Walsh is a lifelong resident of Bloomfield Township for 48 years. She is a proud alumna of the Bloomfield Hills Schools District, attending Booth Elementary, BHMS and Andover High School. She serves as the Class Historian and hosts the Andover Class of 1990 Reunions. Dani graduated from the University of Michigan Ann Arbor. While there she was chosen to serve as UofM's sole representative in ABTS, the Association of Big Ten Students, which represents over 500,000 undergraduate students of the Big Ten.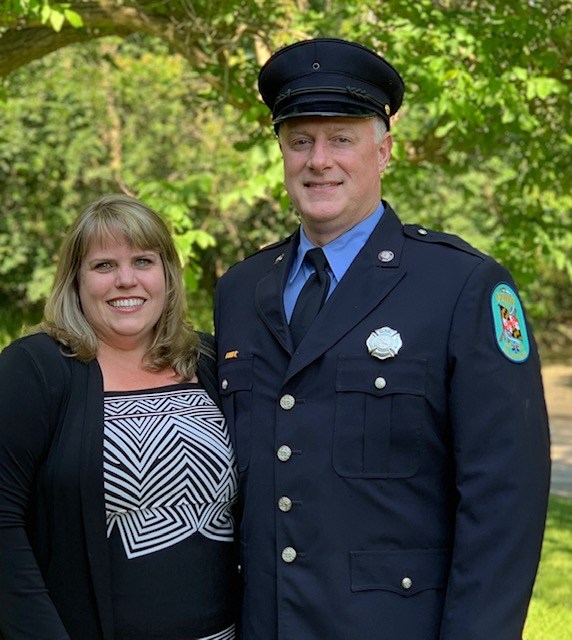 Left: Dani Walsh and her sisters Cathy McCotter (Left) and Toni Burns (Right) pose with their mother Geri Walsh.
Right: Dani and her husband Paul.
She has spent 20+ years working for global corporations and honing her skills in strategic planning, organizational management, process and budget efficiencies, procurement, training and workforce development, and management. As a Business Consultant, Dani helps businesses redefine or reinvent themselves to improve and succeed in a changing environment. Her experiences offer an arsenal of innovative ideas to bring township business practices into the year 2020. Streamlining processes, adjusting the approach of financial priorities, and changing the structure of government, all lead to savings that would be passed on through increased services to residents.
As a Trustee, Dani was transparent to the public about the OPEB liability, approved a land swap to save the nature center to the detriment of her personal property, and addressed the lack of parks, because she always puts citizen needs first. Currently, she sits on the Board of Trustees, the Zoning Board of Appeals and is a Board member for Preservation Bloomfield. As Supervisor, she will provide leadership you can trust and make Bloomfield stronger with transparency, responsibility, and rebuilding bridges with schools & community.
Left: Bloomfield Hills High School Multicultural Event, From L to R, David Buckley, Dani Walsh, Paul Kolin, Cynthia von Oeyen, and Rob Glass.
Right: Female leaders at a Legislative Reception, From L to R: Haley Stevens, Ellen Mahoney, Dani Walsh, and Rackeline Hoff.
Dani and her husband Paul were married on August 4, 2018. Paul is an IT Executive by day and volunteer Firefighter and EMT by night. They will be celebrating their 2-year anniversary at the primary polls. Paul has two daughters that Dani affectionately calls her bonus daughters. Dani and Paul are also Papa and Gigi to two adorable grandchildren.
She is a second-generation American of 50% Irish and 50% Lithuanian decent. Dani comes from a close family that is filled with hundreds of loving cousins, two sisters and two brothers-in-law, and 5 nieces and nephews, also known as the Fab 5. Her mother, Geri, has always been her biggest supporter, taught her compassion, and always keeps her on her toes. Although her father Dave passed away, he would be the proudest of Dani representing her hometown. She is often told along the election trail, that she is a chip off the old block since she has his wit, shares his love of politics, and is always fighting for fairness and justice.
Top Left: Dani's five nieces and nephews, aka "the fab five." Top Right: Dani with her bonus daughters, Brighde (L) and Erin (R). Bottom Left: Dani and Paul with their mothers, Geri Walsh and Lynn Williamson. Bottom Right: Her family and closest friends standing up at her wedding. What a lineup!